We're closed at the moment
Education programme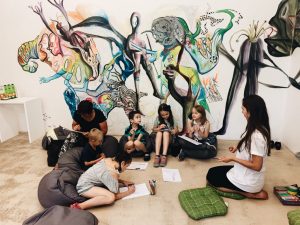 Contemporary art exhibitions trigger a lot of interest, but also open doors for questions among their visitors, and thus through the examined concepts and experimentations hold the potential to encourage conceptual learning beyond the actual exhibition visit itself. Kim? Contemporary Art Centre organizes 20 exhibitions a year, and to encourage deeper observation and discussion among its visitors, it uses the adaptability and diversity of its exhibited artistic concepts through an ingrained education programme. Making use of the changing arts realia, Kim? has developed a framework of educational tours based on open-ended, probing questions and connection-building exercises. Kim? offers  exercise pages customized for each exhibition for pre-school children, school-aged children, and adolescents.
Kim? also regularly organizes afternoon coffee sessions for senior citizens, offering a platform for older viewers to come together for a tour, and mediated discussion on contemporary art and the exhibition on view.
The Kim? education programme has been supported by the State Cultural Capital Foundation, and the project "Skolas soma", all based on project funding. To ensure an on-going program, please consider donating.