We're closed at the moment
Overheard: Series of Conversations with Ian Rosen, Tobias Kaspar, Ellen Blumenstein and Forrest Nash
6.5.2020 - 18.6.2020
Series of Zoom conversations with Ian Rosen (Misako & Rosen), Tobias Kaspar, Ellen Blumenstein (Imagine The City), and Forrest Nash (Contemporary Art Daily) in conversation with Zane Onckule (Kim?)
Follow the links down below to sign up for the conversations:
June 17, 18:00 pm (EEST) – Ellen Blumenstein
May 6, 12:00 pm (EEST) – Ian Rosen
May 13, 19:00 pm (EEST) – Tobias Kaspar
May 27, 20:00 pm (EEST) – Forrest Nash
If the pandemic's waning-out forecast for Europe is accurate, the blooming month of May shall mark a transition phase towards the new normal: back in the office, studio, or other production site. To use this before-time, while we are still existing under an alternate reality tied to the screens, Kim? has set up a series of timely, necessary, and unavoidable Zoom conversations with our collaborators who have generously responded to this call
Borrowing from the notion of "overheard" (as to hear speech or speaker with(out) intention or speaker's knowledge), these conversations – not lectures or presentations – are directed towards an audience interested in a wide range of subjects and concerns across contemporary art and culture. Streamed from Tokyo, Zurich, Hamburg, and Los Angeles, these wishful-jetsetter conversations with Riga attempt to examine the operations of a gallery (Misako & Rosen), an artist-studio practice today (Tobias Kaspar), and the politics that define an online arts platform (Contemporary Art Daily) as well as new and innovative approaches in merging culture with urban development (Imagine The City)
To turn this into a true overheard experience, the audience is kindly asked to submit their questions (in Latvian, Russian or English) before (no Q&A) each of the conversations by writing to kim@kim.lv. Up to an hour long conversations will be recorded and uploaded on www.kim.lv
Please, join us for the next four consecutive Wednesdays welcoming our speakers!:
Ellen Blumenstein. Photo: Thomass Hampel.
Ellen Blumenstein (b. 1976) is a curator based in Hamburg and Berlin. Since August 2017 as part of the young and experimental cultural program Imagine The City she develops exemplary new formats at the intersection between art and city planning drawing up long-term strategies for HafenCity of Hamburg. The goal is to implant artistic perspectives early on and on a long-term base in the processes of urban development – and embed culture indefeasible in civil society. To this end, curator Ellen Blumenstein is working alongside Hamburg culture professionals and international creatives to come up together with fictitious arrangements capable of bringing various groups of users into contact with one another. Besides Imagine The City, Blumenstein is currently visiting professor for the theory and practice of exhibition work at the Academy of Fine Arts in Nuremberg. From 2012 to 2016 Ellen Blumenstein was in charge of the programme for the KW Institute for Contemporary Art (Kunst-Werke) in Berlin, producing among others solo presentations by Kader Attia (2013), Lizzie Fitch / Ryan Trecartin (2014), and Renzo Martens (2015) and the theme-based exhibitions Real Emotions. Thinking in Film (with Franz Rodenkirchen and Daniel Tyradellis, 2014), Under Weapons. Fire & Forget (with Daniel Tyradellis, 2015), and Secret Surface. Where Meaning Materializes (with Catherine Wood, 2016). Before that, she formulated the concepts for projects for the Kassel documenta (2012), the Icelandic Pavilion at the Venice Biennale (2011), and the ZKM Centre for Art and Media in Karlsruhe (2006) and for museums in Spain, Portugal, Brazil and the US. Her curatorial work revolves around elaborating new formats for cultural output and its mediation. More on: https://imaginethecity.de/en. In 2011 Kim? hosted Blumenstein for a series of events – Conversations on the figure of the truth teller – a potlach dinner-conversations at Kim? (2011) and discussion with Art Academy of Latvia students (2011).
Ian Rosen, painting by AI, source: https://ai-art.tokyo/en/#/, 2020.
Ian Rosen (b. 1977) is an artist and gallerist at Misako & Rosen. His work has been exhibited at venues such as Midway Contemporary Art, Minneapolis, The Finley, Los Angeles, Kristina Kite, Los Angeles, Kim? Contemporary Art Centre, Riga, Collective in SUPER OPEN STUDIO, Sagamihara, Ulrich Heimer, Vienna. Having worked in the contemporary art world within Tokyo for the past 17 years – first as the director (2002-2012) of a then emerging, now established space, Taka Ishii Gallery, and subsequently as a co-founder (2006-present) of the gallery MISAKO & ROSEN, Rosen have been intimately involved in the development a commercially viable alternative to the mainstream model for the dissemination of contemporary art within in a commercial context – from a relatively peripheral geographical location. At the same time, as a practicing artist, he has collaborated together with local and international artist run and non-profit spaces on the organization of exhibitions.Through the founding of the informal emerging gallery association, New Tokyo Contemporaries (comprised of 6 second-generation Tokyo-based contemporary art galleries) as well as my his work with the New York based non-profit NADA (New Art Dealers Alliance) and participation in the Brussels gallery share, LA MAISON DE RENDEZ-VOUS (together with Lulu, Mexico City, LambdaLambdaLambda, Prishtina and Park View / Paul Soto, Los Angeles), Rosen, together with colleagues, have been able to develop alternative strategies for generating an international community of likeminded spaces, artists, curators, writers – all in an effort to generate a cultural context for the art created in in our various, highly specific yet internationally conversant locales. More on https://www.misakoandrosen.jp/en/. In the past Rosen has very briefly lived within Riga and, more recently, collaborated on projects together with curator, Zane Onckule (Balticana, 2019) and Kim? (2018).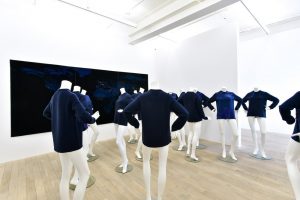 Tobias Kaspar, Epicenter, 2019, Galerie Peter Kilchmann, Zurich. 
Tobias Kaspar (b.1984) lives and works in Riga and Zurich. Tobias Kaspar's practice is not a sceptical, detached position, but rather one that draws on unlimited resources inside the structures and stories of art. Kaspar is fascinated with mechanisms that shape the processes of value creation and taste formation. He is interested in how and when symbolic added value and desire are created. His works demonstrate an interest in cultural transfer processes of styles and fashions within a sphere or beyond it, tracing global trajectories. The mechanisms of fashion, its dazzling power of seduction, of creating a desire to be someone else, and the possibilities it offers to embody or simulate identities are one of the key frames of reference for his practice Since 2009 he has the magazine PROVENCE and since 2012 had his own eponymous jeans line. In his practice, institutions and the art system, as well as his own artistic output, are repeatedly challenged: for example his solo exhibition "Independence" at the Kunsthalle Bern (2018) was announced without a mention of the artist's name. Kaspar's work has been exhibited amongst other at the Kunsthalle Bern (2018), Kunsthaus Zurich (2017), Museum of Modern Art in Warsaw (2017), Wattis Institute for Contemporary Art, San Francisco (2015), Solo Shows, São Paulo (2015), CAFAM Biennale, Beijing (2014), Kunsthalle Wien (2014), Kunsthalle St. Gallen (2014), Midway Contemporary Art, Minneapolis (2013), Artists Space, New York (2013), Palais de Tokyo, Paris (2012), Kunsthalle Zürich (2011), Kunsthalle Basel (2011), Museum Hamburger Bahnhof, Berlin (2011), Kunsthaus Bregenz (2011) and Künstlerhaus Stuttgart (2010). More on https://www.tobiaskaspar.com/, https://www.peterkilchmann.com/tobias-kaspar. Kim? has collaborated with Kaspar organizing two of his exhibitions – "ESTATE/Autumn" and "ESTATE/Summer" editions (2019) and "Tobias Kaspar solo exhibition" (2017).
CAD, 2020.
Forrest Nash is the founder of Contemporary Art Daily and the executive director of the nonprofit organization that produces it. He continues to edit Daily as well as Contemporary Art Quarterly, a series of deep archives documenting the practices of individual artists. A major art media institution, Daily has become required viewing for professionals and art fans alike. The site began in 2008 with the simple goal of publishing at least one international contemporary art exhibition every day. It quickly attracted attention from the international art community, publishing high quality documentation of exhibitions ranging from major museums to young commercial galleries. After two years, it had accumulated an extensive database of exhibition venues from across the world, which was turned into a free public directory called Contemporary Art Venues. The organization became a nonprofit in 2012 so as to begin work on Contemporary Art Quarterly. The sixteen archives that have been produced so far include many thousands of images and videos documenting hundreds of exhibitions and other projects. In each case, these freely available archives have greatly expanded public knowledge about the featured artist. The organization continues to develop new projects in accordance with its mission to organize, preserve and make accessible the art history of our time. More on https://contemporaryartdaily.com/. Since 2014 CAD has published 5 kim? organized projects.